On March 14th Campbell River Judo Club lost it's founder James Ramsey. Mr. Ramsay was the life force of the Campbell River Judo Club since he started the club in July 1966. He was granted Judo BC life membership unanimously in 2015 in recognition of his lifetime commitment to "the gentle way".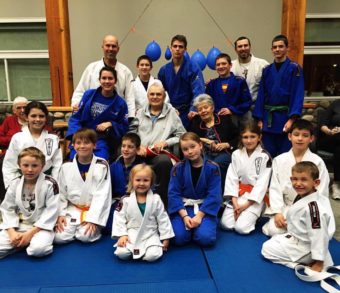 "James Ramsey taught me Judo when I was just 15 years old and a green belt. He was a friend and teacher to me. He was a 6th degree black belt and and he is one reasons I do Judo today. He is an inspiration to me and I will always remember him. He was not just a Judo sensei to me but a legend. His legacy will live on for generations to come. He will be remembered forever as one of the main people that built our club and he lived to see his vision come alive." Danny Kells
"Judo BC is pleased to recognize the great contributions made by Mr. James Ramsay over the past 50 years by awarding him Life Memberships status. He has devoted his life to the sport of Judo in BC and in particular the city of Campbell River." Sandy Kent, Judo BC President, on James's life membership in 2015
CLICK HERE for more information about Mr. Ramsay.