Submitted by John Huntley, Aberdeen Judo Academy
Left Canada on Wednesday, April 25 for my bi-yearly trip to Japan to compete in the All Japan High Dan Tournament (Zen Nihon Kodansha Taikai) held at the Kodokan in Tokyo.  Sponsored by the All Japan Judo Federation, competition is restricted to Kodokan 5th dan & higher ranked judoka (Kodansha); this year there were just over 1400 competitors, about 1390 Japanese and 10 foreigners, myself included!
The Taikai is held on April 28 each year at the Kodokan , and the annual All Japan Judo Championships are held next day, April 29 at the Tokyo Budokan.  It's nice that avid judoka can take in two major events on the judo calendar back to back!
This year's Taiki was preceded by the 130th Anniversary celebration, Kodokan Judo being originated in 1882.  After the 1 ½ hour Anniversary ceremony, the awarding of long-time Taikai participation awards and the official opening comments we got underway.  The individual matches started simultaneously on the four competition areas of dai-dojo, starting with the 6th dan competitors, . .
After a few hours of on-going competition, my turn to compete; I was matched against Hirokazu Murakami from Niigata.  As is normal procedure for each match, we bow towards Kano Shihan's chair situated at the Kamiza of dai-dojo, then to each other, step forward, 'hajime' is announced and the long awaited match is on!.  As was the outcome of my match in 2008 (different opponent), I went to a 'hikiwake (draw), each of us garnering a half a point after 3 minutes of continuous activity!
After our respective matches, Keith and I head downstairs to watch Wayne Unger (Victoria Judo Club) in his first-ever try at the Taikai.  Wayne won his match with a beautiful uchimata-makikomi and walks proudly off the mat! Off we go back upstairs to watch the higher dans compete; even 8th dan competitors 'doing their thing'!
At the conclusion of the Taikai, it was time to head out for dinner, discuss the day's activities and prepare for the All Japan Judo Championships the next day at the Tokyo Budokan!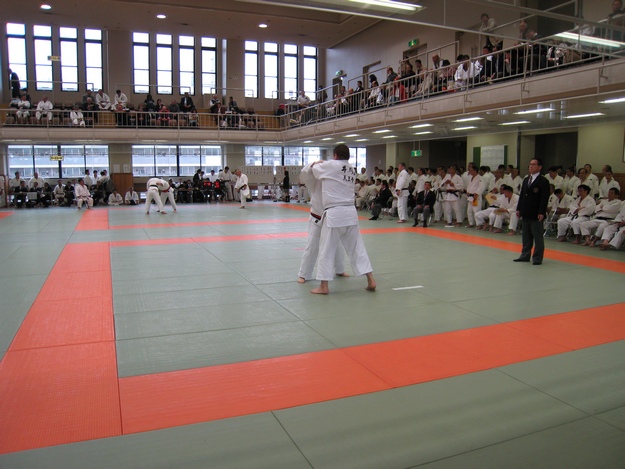 April 29 – Here we go!  Arrived early at the Budokan after a short ride from my hotel; I recognize many faces –  Yamashita sensei, Fuji sensei, Fukushima sensei, Murata sensei amongst others, . .doors open and the crowd surges in!  Once inside, I stop to take in the ambiance of the Budokan; originally built in 1963-64 as the venue for the first ever judo competitions to be held in the Olympics of 1964, it is still a very impressive structure and is the headquarters of many martial arts specific to Japan!  I videoed the opening ceremonies and the opening kata demonstration – this year it was Nage-no-Kata performed by Kosei Inouye – wearing a red & white belt! His older brother Tomokazu was his uke. 
After some hard fought matches and some interesting upsets of top favourites the final match of the day is upon us! Competing for first place are Hirotaka  Kato (4 dan, 26 years old, 93Kg.) vs. Ryuta Ishii (3 dan, 29 years old, 135Kg.)  quite a size difference!  But in the end, the good small judoka beat the good big judoka – with an ippon technique!  The Budokan erupted with cheers & clapping!
With the Taikai and the All Japan Judo Championships over with, the balance of my trip was sight-seeing around Tokyo & Kamakura plus taking in the many activities at the Kodokan!
Taking place in dai-dojo at Kodokan since arriving in Tokyo that I videoed:
Children's classes go from 4:40 – 6:00PM; senior beginners go 5:30 – 7:00PM and general open randori goes 6:00 – 8:00PM!  Dai-dojo is comprised of 420 mats (imperial measure) all floating on giant coil springs; mat surface measures 87' x 87' and is large enough to have different groups all working out at the same time! 
May 1 – visited my friend Naoki Murata sensei, the curator of the Kodokan Library & Museum, discussed judo activities world-wide in general, and some specifics of
Canadian judo; I promised to send him some detailed information on the history of Canadian Judo and in passing he indicated that the All Japan Judo Federation would be holding a kata standardization clinic the next day in dai-dojo!  He invited me to take it in; he didn't have to ask me twice!  What an impressive opening – twelve senior red & white belt instructors – plus one red belt (Matsushita – 9th dan) lined up opposite approximately 45 – 50 black belt judoka from various prefectures of Japan!  The clinic lasted three hours, was very interesting and informative as to the individual performances  observed, . . !
May 4, Friday – the All Japan Judo Federation hosted a technique clinic in dai-dojo at Kodokan, featuring black belt competitors demonstrating their favourite technique.  Signs were posted, indicating what technique would be demonstrated and practiced on which mat, and the judoka would go to a specific mat to take part.  Very interesting watching the kids paying rapt attention to every detail!
May 5, Saturday – All Japan High School Championships and my day to leave for home, . . I went to dai-dojo early – sure enough, the place was packed; judoka  warming up, . . some doing static uchikomi, some doing dynamic uchikomi, some doing ukemi.  I managed to get in a good hour of on/off video footage before it was time to head for Narita Airport, . . visited the Kodokan gift shop for last minute gift purchases on my way out, and then off to Suidobashi subway station for the trip to Tokyo Central and a transfer to the Narita Express line to the airport.
Checked in at the United Airlines counter, down to the Duty-Free shops to browse around until departure time and sent miscellaneous e-mails from my BlackBerry Playbook; there are WiFi hotspots in all locations in Narita, Seattle and Vancouver Airports !
An excellent flight back to Vancouver, short stop in YVR and then home to Kamloops – another great trip and wonderful memories!