Judo BC celebrated 50 years, as a registered society on June 6, 2014 at the Executive Airport Plaza Hotel & Conference Centre in Richmond, BC. The evening's master of ceremonies was Al Sakai who spoke to the importance of the people who give Judo BC its identity and character. During the course of the night, guests were treated to a buffet dinner, slide show, trivia contest, storytelling and more than a few good laughs.
Judo BC members who submitted content for the 50th Anniversary slide show and Commemorative Book were entered into and draw and Henry Boas, from Penticton Judo Club, won one nights' accommodations at the Executive Airport Plaza Hotel & Conference Centre Richmond. Jack Mah was the lucky victor of the door prize, a round-trip airfare to anywhere in Canada!
Thank you to Al Sakai and all those who submitted content for their efforts to make this celebration memorable.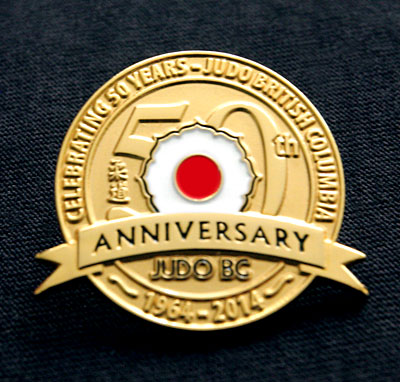 Special thanks to Jack Mah who spent countless hours designing a 50th Anniversary Commemorative Book and pin for all in attendance to take home.
This book is a work in progress as we accumulate our rich history and compile it in one place. If you have corrections or additions you think should be included, please email to let us know. Limited quantities of the Judo BC 50th Anniversary Book is available for purchase at $20 each. Please contact Judo BC to order your copy.
View a low resolution sample of the book