Judo BC High Performance Pathway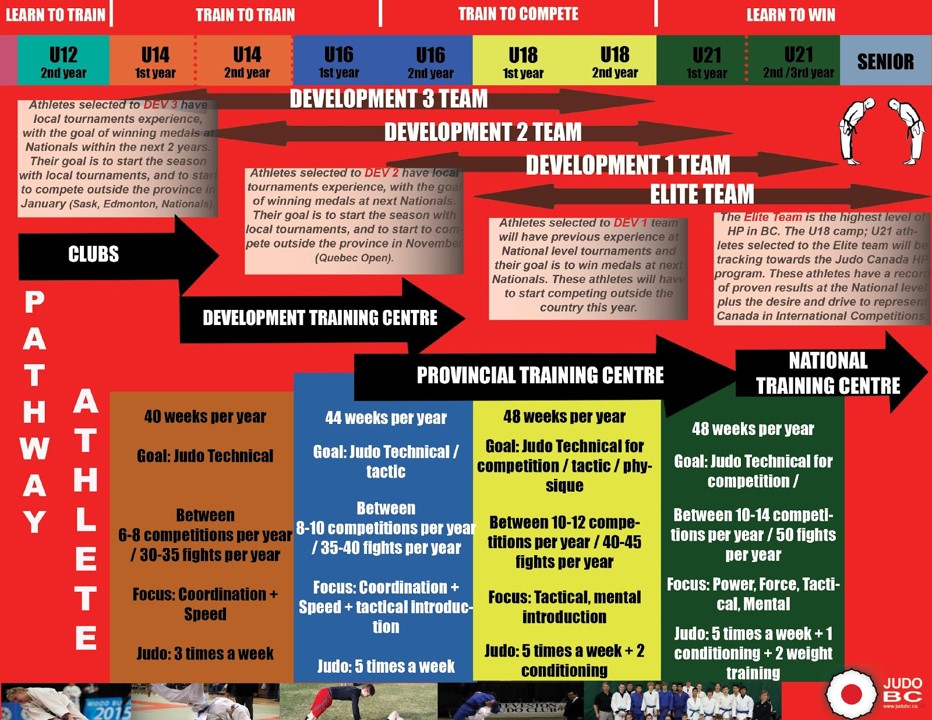 Judo Canada High Performance Mandate
Judo Canada's mandate is to produce sustainable podium performance at Olympic Games, Senior World Championships, Junior World Championships and Cadet World Championships.
Judo BC Provincial High Performance Definition
High Performance (HP) in BC is the pursuit and achievement of excellence at the Train to Train and Train to Compete stages of the Judo Canada Long Term Development Model. Judo BC has determined three HP Levels:
1. Elite Team
The Elite Team is the highest level of HP in BC. Athletes selected to the Elite team will be tracking towards the Judo Canada HP program.
2. Development Teams
The Development Team will be made up of athletes tracking towards the Elite BC team.


The Sport for Life Society is recognized as the global experts on the Sport for Life movement, Long-Term Athlete Development, and physical literacy development.
Sport for Life – Long Term Athlete Development (LTAD) is the model used to develop physical literacy from grass-root community programs to the Olympics. The model establishes the building blocks of fitness and sport for life. It identifies the fundamental sports skills and training methods. LTAD can accelerate the improvement in strength, power, endurance and the ABCs: Agility, Balance, Coordination, Speed essential for all developing athletes. The model firmly grounded in scientific exercise physiology. Learn how to take advantage of the windows of opportunity in training children based upon biological growth, and indicators of peak height and strength velocities.
Sport for Life – LTAD Model Video
I am a coach. Where can I find more information?
Visit http://sportforlife.ca/coaches/ for further information and coaching specific resources.
I am a parent. Where can I find more information?
Visit http://sportforlife.ca/parents for further information and various educational resources.
Long Term Athlete Development (LTAD)
A Long Term Athlete Development (LTAD) Model is designed to provide a blueprint for the athletic and personal development of the participants. The model is also designed to help with healthy life-long sport participation.
The LTAD model is an initiative of Sport Canada. A panel of world experts was brought together to create a generic model that was to be adapted by each sport ( see Sport for Life website). Judo Canada's LTAD model was born of this generic model under the guidance of a Steering Committee composed of judo experts from across Canada and from abroad.
The LTAD model divides Judokas in different categories based on their age and their level of activity.
Judo Canada's Complete LTAD Guide
Judo Canada has also prepared Age Group Guides based on the stages outlined in the LTAD. Clubs can use the information therein to help them structure their judo programs accordingly.
Fundamental Judo Techniques