Steve Sasaki Award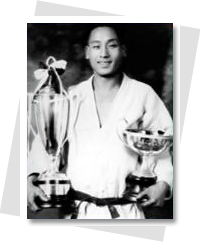 Judo was founded in Japan in 1882 by Professor Jigoro Kano and from him, Mr. Sasaki learned the sport as a young boy. In 1924, two years after immigrating to Vancouver, Mr. Sasaki established the Vancouver Judo Club on Powell Street. Named the Kindokwan Dojo, or training place, this was the first official Canadian Judo club. Many of his students went on to become world-class athletes and coaches.
In the 1930's, Steve became the first official judo instructor for the RCMP. In 1936, Professor Kano visited Sasaki and requested that he accompany him on a European tour to promote the idea and concept if judo in an effort to foster peace and understanding between nations.
The onset of the Second World War changes the lives of countless people, including the Sasakis. The internment of Japanese Canadians during the WWII forced Mr. Sasaki and his wife, Sumiye, to relocate to an internment camp where he continued to organise judo classes. After the war, the Sasakis settled in Ashcroft, where they opened a business and established a dojo.
In the early 1950's, Mr. Sasaki set out to form a national judo organization. By 1955, he had established the Canadian Kodokan Black Belt Association, an alliance of Western Provinces which later becomes Judo Canada. In 1958, He travelled to Japan and arranger for Canada to join the International Judo Federation.
Steve Sasaki retired in 1968, yet continues his quiet dedication to judo. He founded (and taught at) judo clubs all over Vancouver. He achieved an 8th level black belt in 1986, the same year he was inducted in the Canadian Amateur Sports Hall of Fame, and received Japan's Order of the Rising Sun.
Steve was inducted into the BC Hall of Fame in the "builder" category in 1995.
The Steve Sasaki award is presented annually to a long time member of Judo BC who exemplifies the principles of Kodokan Judo.
Steve Sasaki Award Recipients
2017 – Aline Strasdin, Prince George Judo Club
2016 – George Okazaki, Vernon Judo Club
2015 – Al Hadvick, Victoria Judo Club, Judo BC & Judo Canada
2014 – Seiko and Penny Ouchi, Kamloops Judo Club, Judo BC & Judo Canada
2013 – Mickey Fitzgerald, Parkland Judo Academy & Victoria Judo Club
2012 – Yoshitaki Mori and Yosh Yoshida
2011 – Jim Kojima, Steveston Judo Club
2010 – Henry Boas, Penticton Judo Club
2009 – Dave Magnusson, Abbostford Judo Club
2008 – Alan Sakai, Steveston Judo Club
2007 – Dave Speight, Port Coquitlam Judo Club
2006 – Henry Uyeda, Kamloops Judo Club
2005 – Fred Tan, Steveston Judo Club
2004 – Rudi Mahler, North Delta Judo Club
2003 – Yoshitaka Mori, Vernon Judo CLub
2002 – Tokue Suda, Abbotsford Judo Club
2001 – Hermann Mauthner, Invermere Judo Club
2000 – John & Geraldine Huntley, Aberdeen Judo Academy
1999 – Tomoaki Doi & Yonekazu Sakai, Steveston Judo Club
1998 – Tom Mukai, Burnaby Judo Club
1997 – Yeiji Inouye, Victoria Judo Club
1996 – Art Nishi, Steveston Judo Club
1995 – Chris Schenk, Burnaby Judo Club